Scoring each blog out of 30
10 possible points for writing ability

10 possible points for heart warming stories

10 possible points for a fair dinkum laugh
The winner of the Inaugural Torkona Award is
*insert drum roll here*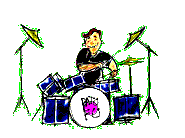 Congratulations Romina. Here's why she is my deserved winner for January 2011.
I am bit surprised I've actually enjoyed her blog. I tend to find myself put a-back by writings full of swear words, but the posts for January were so well written and displayed the emotions she has been feeling very well. It was a very interesting read. I don't think I could imagine it without all the swearing!
I especially enjoyed I think you're all fucked in the head. The title is definitely a stand out. I didn't know what to think after reading just the title. But, it is witty, well structured, heart warming and hilarious. It covers all my criteria exceptionally. It also is likely to be defining for most Aussie mums out there, but I'll let the mums be the judge of that!
The other posts are also very good for January, but that one stood out the most. So to Romina at Martyr-hood, Congratulations! Please accept this trophy as your prize.
Thank you to all that entered. Better luck next time. Make sure you follow me via RSS subscriber, Twitter or Facebook to find out when my next award is up for grabs.
The following are 10 runners-up that only just missed out on the choccies.